Pastor Ronald Hale has been involved in the ministry work for over thirty eight years. Before becoming the pastor of New Life Tabernacle of Corcoran in December of 1991 Pastor Hale was a full time evangelist. Pastor Hale traveled within the United States and the Providences of Canada preaching and ministering to various churches throughout the region.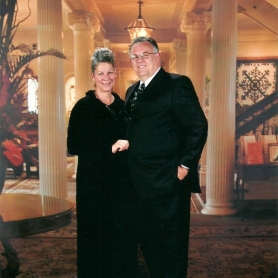 Before his evangelistic journeys he served as the Assistant Pastor of New Life Center in Rialto, California under Pastor Gerald Buxton. Prior to his Assisting the Church in Rialto, California, Pastor Hale also assisted the Pastor in Dinuba, California under Pastor Stephen Buxton, at Calvary Apostolic Church of Dinuba.
Pastor Hale received his call to the ministry at the young age of 10 years old. As he tells his story, it was when he first received the gift of the Holy Ghost, he was given a vision that portrayed him standing upon a mountain as hundreds of hearers sat below as he began preaching the word of God. Within the heavens he saw a figure of Jesus looking down upon him with a smile upon his face, with the words being spoken "feed my sheep". Pastor Hale states that from that time as a young child, I have felt the call to minister to those who are lost and in need of a Saviour.
Pastor Hale has always had a passion for children and young people. He previously has been involved with various Youth Camps for the Youth. He was the Founder, of the Pacific Coast Apostolic Youth & Family Camp which is held annually in the City of Ventura at the Ventura Fairgrounds in the month of June.
Because of Pastor Hale's burden for this younger generation the church in which he pastors in heavily involved with numerous ministries for children, this reflects his desire to minister to children in all facets of their lives. Currently the church in Corcoran operates two sessions on Sunday Morning for Bus Children called Sunday Funday. During these two sessions those involved within the Sunday morning sessions will minister to over 100 children at any given time. The prayers of our Pastor is that in the coming years as new facilities are built we will be able to minister to over 500 children on any given Sunday.
Pastor Hale's burden takes him beyond the Four Walls of the local church. Several Years ago Pastor Hale spoke to the church in regards to purchasing another facility in which we acquired. Through the years that facility was used as a Charter School, Daycare and Preschool Facility. New Life Tabernacles Youth programs have become an integral part of New Life Tabernacle.
Since Pastor Hale's coming to the city of Corcoran we have seen our church grow from it's beginning in 1991 with 14 adults and 22 children, to today hosting over 100 children on Sunday mornings in the Sunday School programs and over 125 adults in the Sunday morning worship services.
We know the Lord has fitly joined us together to bring revival to the city of Corcoran, California, and the surrounding communities of the San Joaquin Valley.
Pastor Hale has a beautiful family. His wife Cindy works in many areas which include book keeping, ladies' ministry as well as assisting our Pastor in many aspects of ministry. They have two wonderful children; a son Jonathan, who is married to Brittany and have 3 girls named Natalia,  Victoria, and Ellie. Jonathan works hand in hand with his father in the Ministries of the local church. Jonathan also leads the Adult Choir and at times plays the drums for the Adult Choir.
Pastor & Sis. Hale also have a daughter, Kari May Loo and a Son-in-law, Jeremy Loo. Kari is very active in her fathers' church, she is the Ladies Ministry leader and she also is the Director of the Junior Youth Choir, she sings in the Adult Choir. Jeremy has become a great asset to Pastor Hale, Jeremy and Kari have 5 girls, Alana, Rori, Audrey, Olivia and Abigail. With helping Pastor Hale in the local church they too have their hands full with Poppy's little darlings.
New Life Tabernacle of Corcoran is very appreciated of their Pastor and His family. Together, God has a great and mighty Revival in store for the Church in Corcoran, California.