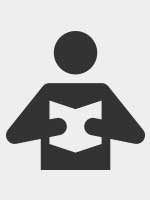 James has been a part of the church, New Life Tabernacle, since he was just a young child. Being raised in the church, he has always had a desire to be used of God. James married a New Convert in which he believes was a gift from God. James states, God gave me the most wonderful, most beautifuliest young lady by the name of Becky to be my wife". He also states that along with his wife, God has blessed him with 3 beautiful children.
As he was growing up, he states that his life was not what many observers may have seen and thought, though it looked like his life was a perfect picture of stability, direction, and happiness. He states, "even though he was raised in the church, he was empty because he did not give himself to the church with his whole heart."
What he did not realize that what he thought he was looking for, was what was available with in the church he was already attending. So, James went elsewhere to look for what he thought would be real and not superficial!
That search took him down a path that now he thankfully thanks God that he was pulled away from it before it destroyed him.
The path he took was a road leading him into the wrong direction that took him to the edge of reason and sanity! He began looking for the elusive peace that the world had not given him. He began to look into Eastern mysticism which led him on a path chasing the always elusive light that he could never grasp a hold of. He became a seeker of truth not realizing that the truth was right where he first left it, at the Church.
This truth finally came in the form of a personal relationship with Jesus Christ and it has continued now for the past 20 years!
This truth did not come from some realization, or enlightenment, or a contact with some so called Universal Mind! That path led him to the edge of Witchcraft and the Occult. But, as James states, "I thank God, that he pulled me off of that path which was only going to led me to bondage & destruction and in return God placed my feet on the true path to salvation and holiness".
James is very active in the ministry of New Life Tabernacle, he is not only a member of the ministerial staff but he is actively involved with the Children's ministry & the music department.
James' desire is that those who do not know the Lord Jesus Christ to allow themselves to be drawn to the true light of the World. It can only be found in a personal relationship with Jesus Christ through the baptism of the Holy Ghost.